The African continent is oozing with potential. We have the worlds best natural resources, a hardworking population, and huge gaps and opportunities for anyone who wants to succeed in their own business. Looking to start a business in Africa? According to Forbes. Here are the 5 top countries to do so. 
5. Botswana
This Southern African country, ranked 68th overall, fueled by diamond mining has maintained one of the worlds highest economic growth rates since 1996. A downturn in the global diamond market as well as water and power shortages have seen Botswana growth slow slightly but with rankings such as 28th in Corruption and 44th in Property Rights, Botswana is Africa's 5th best country for business. 
4. Namibia 
The Southern African country is ranked 63rd on the overall list. Namibia is the worlds 5th largest producer of Uranium and has an economy that is heavily dependent on the extraction and processing of natural mineral resources for export. Namibia is ranked 5th in Market Performance and 55th in Trade Freedom. 
3. Morocco 
Africa's most northern country Morocco, 51st on the overall list, has taken advantage of it proximity to Europe and their reasonably low labor costs to build a diverse, open-market economy. Despite Morocco's economic progress, the country suffers from high unemployment, poverty, and illiteracy, particularly in rural areas. With their rankings of 17th in Market Performance and 21st in Monetary Freedom. 
2. South Africa
At the Southern tip of Africa, South Africa is ranked 48th in the overall list. South Africa is a middle-income emerging market with an abundant supply of natural resources; well-developed financial, legal, communications, energy, and transport sectors; and a stock exchange that is Africa's largest and among the top 20 in the world. Unemployment, poverty and inequalities in South Africa are among the highest in the world but with their ratings in Investor Protection, 22nd, and Property Rights, 30th. 
1. Mauritius 
This Island off the coast of east Africa is ranked 39th in the overall list. Transformed from a low-income agricultural based economy into a diversified upper middle-income economy with growing financial, industrial and tourism sectors along with sound economic policies and prudent banking practices backs up Mauritius's ranking. Highly ranked in Trade Freedom, 4th, and Property Rights, 34th, Mauritius is the best country for business in Africa.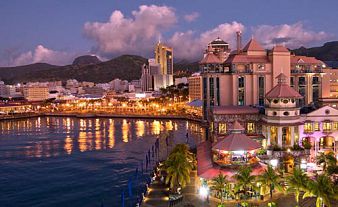 Source: ItsNewsAfrica